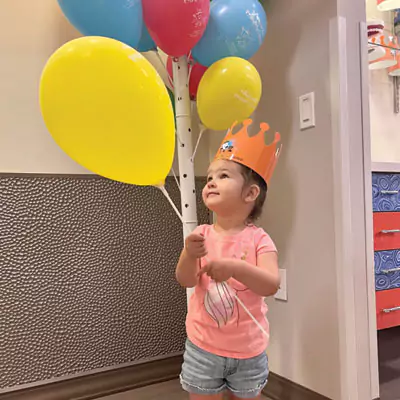 Dental Exams
Children's Oral Examinations in Wilmington, NC
---
What is a dental exam?
A dental examination is an important first step in evaluating your child's oral health. The health of your child's teeth and mouth are important for their overall well-being. The American Academy of Pediatric Dentistry recommends a visit to the dentist within six months of the eruption of your child's first tooth, or by their first birthday.
Our specialized kids dentists will evaluate your child's mouth, including the teeth and supporting structures, and may recommend dental x-rays. Dental x-rays are an important diagnostic tool that provide valuable information not only about your child's teeth but about their growth and development.
Together we will develop a comprehensive preventative plan to ensure a lifetime of optimal oral health. If your child requires dental treatment, we will review treatment options to ensure your child has a positive experience.
Why does my child need a dental examination?
Regular oral examinations performed by our specialized dentists can help detect and intercept dental problems such as tooth decay, gum disease and bone loss. After evaluating your child's teeth, bite and the supporting hard and soft tissues of the mouth our dentists will provide recommendations specific to your child that will help prevent dental problems in the future, such as fillings or dental crowns.
Schedule a dental check-up for your child today!
At Wilmington Kids Dentist we are dedicated to helping your child maintain a healthy smile. To schedule a dental examination for your child with one of our kids dental experts, please click the button below.