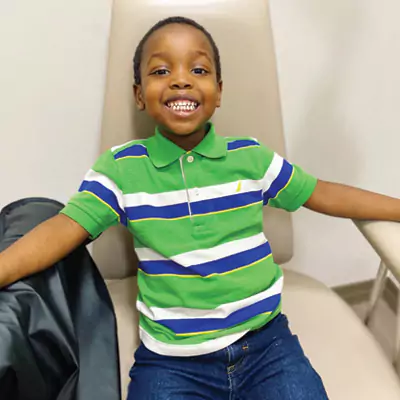 Dental Crowns
Children's Crowns in Wilmington, NC
---
What is a dental crown?
A dental crown or "cap" is placed on top of a tooth that has a sizable amount of its structure missing due to a large cavity or fracture. Dental crowns are used when a filling will not provide an effective long-term solution for the tooth. Dental crowns restore the tooth's natural form and function and protect it from further breakdown.
We offer white (zirconia) crowns, as well as silver (stainless steel) crowns. Our specialized dentists will evaluate your child's teeth and discuss which option is right for your child.
How is a dental crown placed?
If your child's tooth requires a dental crown, any decay present in the tooth will first be removed. The tooth is then shaped in order to fit the type of crown it is going to receive.
Next, the crown is cemented onto the tooth in the same visit. Your child will need to avoid chewing foods that could dislodge the crown. The dentist will discuss specific instructions for your child following the procedure.
A dental crown can help protect your child's teeth!
At Wilmington Kids Dentist we are dedicated to helping your child maintain a healthy smile. To schedule an appointment for your child with one of our kids dentists, please click HERE or the button below.