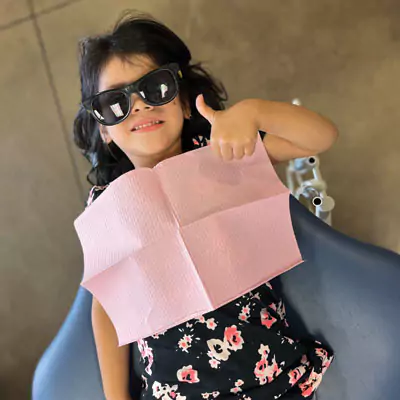 Teeth Cleaning
Children's Dental Cleaning in Wilmington, NC
---
Why does my child need their teeth professionally cleaned?
At Wilmington Kids Dentist, our children's dentists are committed to helping children develop good oral health habits that will last a lifetime. In addition to regular brushing and flossing at home, we recommend all of our patients receive a professional dental cleaning along with their oral examination at least every six months.
A professional dental cleaning will remove any plaque, tartar and stains from the teeth. Removing plaque and tartar at regular intervals decreases your child's risk of developing gum disease and tooth decay.
What should I expect at my child's teeth cleaning?
At your child's dental cleaning appointment, plaque and tartar will be gently removed and the teeth will be polished. We will share oral hygiene instructions that are specific to your child's needs.
We will also show techniques to aid in removing plaque from your child's teeth at home. Regular dental cleanings and examinations by our children's dentists can help detect and prevent common dental problems.
How much does a dental cleaning cost?
The cost of a preventative visit for your child will depend on your insurance. As long as you are in-network, most insurance providers will cover the full cost of your child's dental cleaning and examination. For a list of insurances we accept, please visit our insurance page. If you are unsure if we are within your insurance network, give us a call at (910) 442-3443.
Teeth cleanings help keep your child's teeth bright and healthy!
At Wilmington Kids Dentist we are dedicated to helping your child maintain a healthy smile. To schedule an oral examination for your child with one of our specialized dentists, please click the button below.